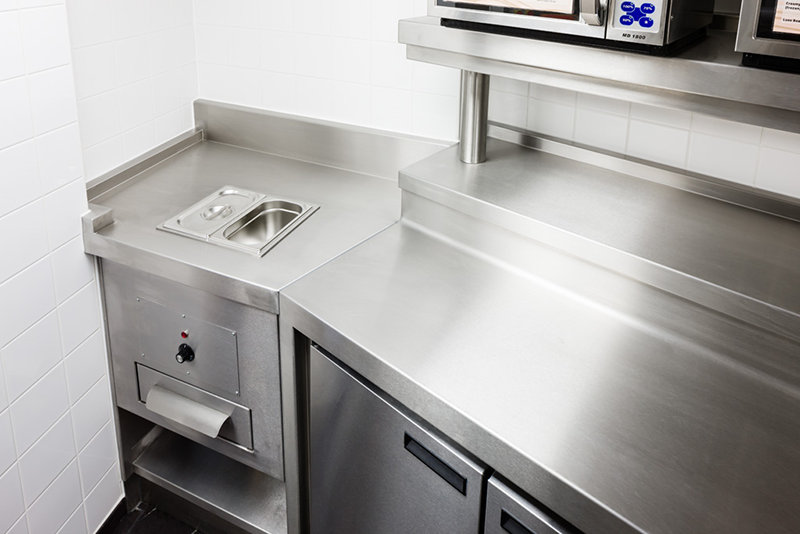 Merseyside Catering Fabrications are one of the UK's largest suppliers of bespoke stainless steel fabrication to the catering and foodservice industries.
A private company established in 2013 based in Merseyside and serving both National and International clients, we have a growing team of highly skilled and qualified engineers producing high end bespoke fabrication on a daily basis, with well over 100 years of accumulated experience within the industry.
Our product range is not limited to standard and high end commercial fabrication.  We also design and manufacture servery counters, refrigerated and heated display cases, butchers serve over counters, fish decks, and much more.  We can accommodate any bespoke project – no matter the size.
Distributors
MCF have key relationships with our distributor network.  We deal exclusively through approved national catering equipment distributors.
Installation
We offer installations for all our projects.  The engineers who manufacture the equipment also install on site, reducing snags and saving money.
Specification
We are pleased to say we quote for projects that have any specification of detail for tailored kitchen fabrication.  All specifications will be considered.
CAD Drawings
In order to assist our distributors, we supply sales drawings free of charge.  This ensures the end user fully understands the equipments design.
"As a business CPL strive to create strong partnerships with supply chain and over the years this has been accomplished with MCF.  The dedication to detail and design has ensured that MCF have remained as one of the top fabricators in the UK.  Adaptable, innovative and a total understanding of deadlines has enabled both CPL and MCF to install some amazing projects with great fabrication"
Paul Turnbull, Director – Catering Projects
"Edge DPM have been working with MCF for a couple of years now and have found them to be very understanding of our needs and always have a flexible approach to our requirements. The quality of the fabrication is always excellent, delivered on time and because they use the guys that make the units in the factory to install on site it ensures a quality job every time"
Mark Shentall, Director – Edge DPM
"We've worked with Merseyside Fabrications on projects on all sectors of the hospitality industry over the last four years. Over this period we have found their workmanship quality, pre-sale and post-sale support and quality of design second to none. Nothing is too difficult and their team of designers are keen to find unique solutions to offer to our customers. Working with MCF has improved the standard of offer to our customers and we look forward to continuing our relationship with them"
Matt Connell – HK Projects
Latest News & Articles
In this section you can take a look through stories relating to our continued growth as a company and within the commercial catering fabrication industry.  Also included are some posts detailing our commonly used materials, ethos and much more.